Hauntings At Hampton Court Palace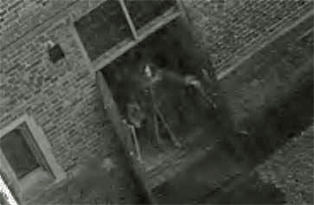 Skeletor.
Hampton Court Palace security staff were called to close a fire exit that had mysteriously opened near the Introductory Exhibition. On this occasion CCTV footage showed the doors swinging open with tremendous force with no visual explanation as to why.
The second time this happened a ghostly figure appeared after the doors swung open to close them.
On the third occasion the doors opened the ghostly doorman was no-where to be seen.
In addition, a visitor the the palace wrote in the visitors book that she had seen a ghost in that area. This story gained a lot of media attention on a global scale.
Catherine Howard.
Also known as the screaming lady, Catharine Howard is believed to roam the haunted gallery and has been spotted walking accross the room screaming before disappearing through the walls.
Sybil Penn.
First spotted as early as 1829 after her remains were unsettled during the reconstruction of the church, Dame Sybil Penn served four Tudor monarchs. Her ghost is also known as The Grey Lady of Hampton Court Palace.
There is also a video on the hauntings at Hampton Court Palace here:
Is your house suffering from ghostly goings on? Maybe it's time to move! Request a valuation.
What has the coronavirus pandemic done to the property market in East and West Molesey, Esher, Claygate, Hinchley Wood and Thames Ditton?
The property market is booming in KT8 and KT10, here's how you can carry on the search for your new home safely.
How are the measures that the government has put in place affected the property market, and what can we expect when we inevitably beat COVID-19?
Energy Performance Certificates (EPCs) were introduced in 2007 to give buyers a better understanding of the energy efficiency of a property they may wish to buy. The EPC is a legal requirement if you…
If you want to add value to your home, and make it a better place to live upgrading your bathroom can bring surprising benefits. One of the most important rooms in a house, it's a place where you…