Support Molesey Resident Karen Lamb's Bike Ride Challenge!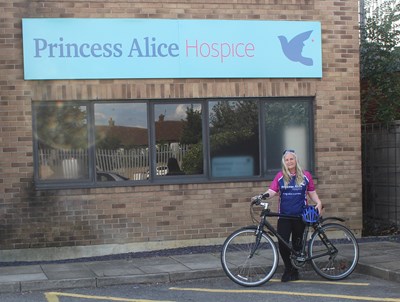 Will you show your support? Karen Lamb of West Molesey is fundraising for the Princess Alice Hospice with a target of £3000. She has already raised nearly £500.00 of her target and is training hard. Her heart felt story of what inspired her to take on this challenge is below along with details of how to donate.
"Three years ago, my partner Mike and I were leading a normal, happy life together when everything changed. Mike was diagnosed with esophageal cancer at the age of 50. Three weeks later, on New Year's Eve, he died.
Mike didn't have the chance to benefit from the wonderful care of the Princess Alice Hospice. I want to raise money so that this care is available to as many people as possible who find themselves in a similar position.
My name is Karen, I am 48 years old and I work in the Retail Department of Princess Alice Hospice.
A few months ago, the only reason I would get on my bike was to cycle to the pub! Now I'm training to do a 10 day, 500km cycle from Vietnam to Cambodia.
If you'd like to help me to achieve my goal, please donate whatever you can to this wonderful organisation.
Thank you for taking the time to read my story."
Karen

If you would like to make a donation please visit: https://www.justgiving.com/Karensbikechallenge/
Best of luck Karen!
How are the measures that the government has put in place affected the property market, and what can we expect when we inevitably beat COVID-19?
Energy Performance Certificates (EPCs) were introduced in 2007 to give buyers a better understanding of the energy efficiency of a property they may wish to buy. The EPC is a legal requirement if you…
If you want to add value to your home, and make it a better place to live upgrading your bathroom can bring surprising benefits. One of the most important rooms in a house, it's a place where you…
After 25 years of trading Catling & Co is now part of Newton Huxley estate agents.
House prices increased by an average 33.7% in the last decade and despite being relatively flat over the last couple of years, due to the uncertainties surrounding Brexit, are set to rise by a further…